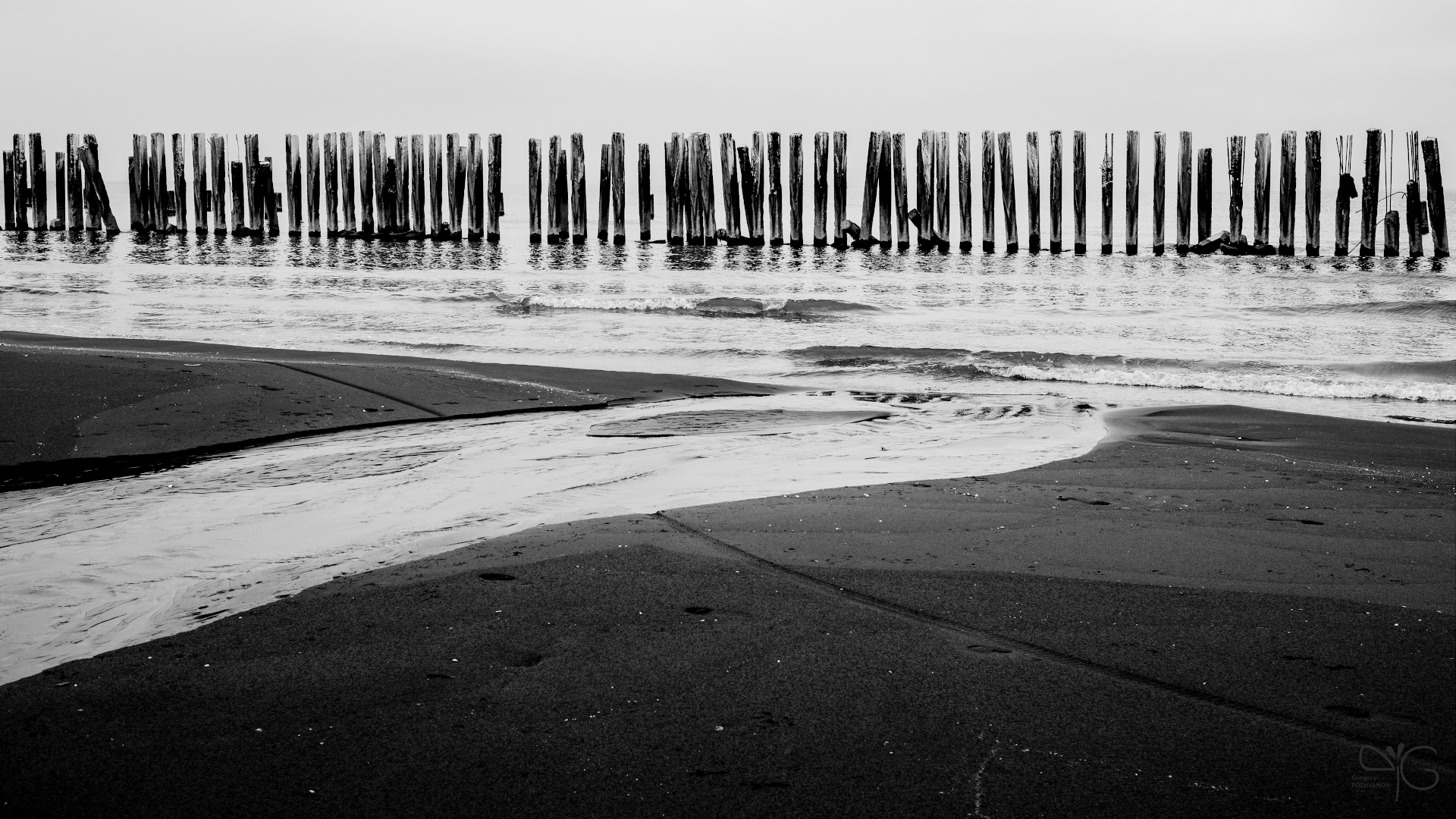 Caspian Sea shoreline. EF 17–40mm f/4L USM,  ƒ/9 ISO 200 1/200″.
We all could not wait the trip to Samur forest. Wildlife photographer Valery Moseykin, "Photo Expedition" leader and the author and guide of the first eco-tour in Dagestan, was talking about this wonderful forest with admiration since the very beginning. So with expectations that high, the long way from Mahachkala to Samur river actually looked not that long at all. In addition, we saw endless water space of azure and calm Caspian Sea to the left, and Caucasian foothills to the right. Finally we found ourselves at the southernmost point of Russia, almost at the border with Azerbaijan.


Ophrys oestrifera, Ophrys oestrifera. EF 180mm f/3.5L Macro USM,  ƒ/11 ISO 200 1/13″.
Looks surprising, there is an asphalt road through the south-eastern side of the Samur forest. Locals take it to get to Primorsky settlement which is in 350 meters from Azerbaijan. And this road led us right to the heart of the forest.
As soon as we got out of the car, we saw adorable orchids, a species from Orchis genus. Two other species were hiding in the forest next to the glade.


Saturnia pyri, giant emperor moth. Sturgeons at the fish breeding farm. EF 17–40mm f/4L USM,  ƒ/9 ISO 200 1/200″.

Fish breeding farm was the next stop. However, we haven′t yet got under the roof as we saw a giant emperor moth, the largest butterfly of Russian fauna. Perhaps somebody frightened it, and it started flying to find a peaceful place for a midday rest.


Caspian Sea shore. EF 17–40mm f/4L USM,  ƒ/9 ISO 200 1/125″.
Then we moved right to the Caspian Sea shore. At that time, the sky began to hide behind some mist and clouds, the wind almost disappeared, and a soft tide was literally pushing Caspian out of time borders. Touching the dark-grey sand, we headed to the north to spot egrets and other wetland birds.


EF 17–40mm f/4L USM,  ƒ/9 ISO 200 1/100″.
One can move through the forest only by roads and rare paths. There is no other way, trees and everything in between were covered with smooth and thorny lianas. These jungles, an impossible for humans to cross, are home for wild cats and jackals. By the way, their concert starts on schedule—every evening at dusk, followed by cicadas and owls. The latter is quite unusual to hear in coincidence.


Samur forest. EF 17–40mm f/4L USM,  ƒ/9 ISO 200 1/60″.